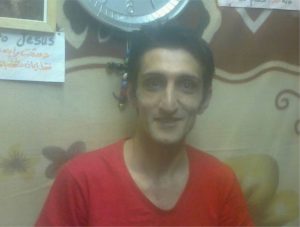 Ebrahim Firouzi (33) was released from Rajai Shahr prison in Karaj on Saturday 26 October, near the end of a five-year sentence. He had also spent time in prison previously on charges relating to his Christian activities.
Ebrahim must now serve two years' internal exile in the remote southeastern town of Sarbaz in Sistan and Baluchestan province, near the border with Pakistan. Sources close to his family report that prison officials took him into the city of Karaj on Saturday morning and released him on a street corner.
A former Muslim, Ebrahim comes from Robat-Karim, 25 km southwest of Tehran. He was arrested in 2013 and sentenced to one year in prison and two years of exile in Sarbaz on charges including "propaganda against the Islamic Republic, evangelism and running a Christian website". In 2015, he was retried and sentenced to an additional five years in prison for "actions against national security, being present at an illegal gathering and collusion with foreign entities". He was due for release in January 2020.
Ebrahim says he is in good health but requests prayer for patience when he begins to feel upset and angry. Mohabat News, however, reports that the difficult conditions Ebrahim endured in prison have seriously damaged his health and weakened him. He was under severe physical and mental pressure, was repeatedly denied medical care and struggled with depression.
After leaving prison but before going into exile, Ebrahim was allowed temporary release to sort out his affairs, including retrieving personal documents confiscated during his arrest and still held by Iranian Intelligence. This gives him time to spend with family and friends before leaving for exile. It is hoped he will then be able to find a place to rent and work in remote Sarbaz, 1,600 km southeast of Tehran. The town has just over one thousand inhabitants, mostly ethnic Baluch who speak Baluchi.
Read Ebrahim Firouzi's Prisoner Profile.
 Ebrahim Firouzi from Iran. Ebrahim is a former Muslim who has been arrested several times for telling people about Jesus. He has been in prison since March 2013 and is due for release in January 2020.
Read the full Prayer Profile, which includes details about Ebrahim's arrest and sentence, his family, prison conditions and daily prayer points. This Christian activist previously on 03-July 2013 detained by Robatkarim City revolutionary court on charges of propagating material against Islamic republic, launching and leading deceptive Christian evangelical organizations, connection with the anti-Islamic revolution elements in abroad, setting up the Christianity internet sites, was sentenced for one year in prison and two years of exile to Sarbaz township, one of the most deprived and disadvantaged areas of the Sistan-Baluchestan province.
MOTHER AND SON ARRESTED IN IRAN AFTER CONVERTING TO CHRISTIANITY
In late February, Anousheh Reza-bakhsh and her son Soheil Zagarzadeh Sani (both former Muslims) were arrested by Revolutionary Guards in the city of Urmia.
Listen to his latest testimony:
'My freedom and getting out of prison cannot be my only purpose. We think especially about the suffering of new believers. If my being in prison stirs the international community to work to prevent such future persecution of new believers, then my choice is to remain in prison.'
Thank God for Ebrahim's witness and encouragement to us to stand firm in our faith. Please remember his family who are concerned for his wellbeing.
Ebrahim asks us to pray for the re-opening of churches in Iran and that he would be a good example in the prison.