Latest

Petr Jasek, Hassan Abduraheem, Kuwa Shamaal and Abdulmonem Abdumawla in prison…ALL NOW FREE!

Thank you for praying for and writing on behalf of prisoners in Sudan. After 510 days in prison, Rev Hassan Abduraheem and Mr Abdulmonem Abdumawla were released on Thursday after receiving a presidential pardon. The two were arrested in December 2015 along with Voice of the Martyrs field worker Petr Jasek and Rev Kuwa Shamaal. Rev Shamaal was acquitted of all charges and released in January, while Petr Jasek was released in February, also after receiving a presidential pardon.
'My joy is now complete as they are now free as well,' Petr said following their release.
Petr spoke to Rev Abduraheem at about midnight Sudan time following his release on May 11. 'He told me that both he and Abdulmonem were in good health and were excited and so happy to be free. He also expressed thanks to all of those who had pushed their case,' Petr said.
Rev Abduraheem told Petr that he had no regrets about his time in prison because he could see the Lord's purpose for him there. He was able to encourage Christians in various prisons in Sudan while his imprisonment also served to encourage and embolden the Sudanese church in general.
The pastor told Petr that he had already forgiven those who interrogated and imprisoned him and that he felt no anger or bitterness. 'I pray that the Lord Jesus would reveal himself to them as Lord and Saviour,' he said.

ANOTHER piece of incredible news

"I am now with my children and my family, they are happy, some are crying. They can't believe it"
– Rev Hassan, freed today after 17 months in detention

Sorry to email you again so soon after the news of Li Heping's release, but we've just had some amazing news from Sudan!

Reverend Hassan, a church leader, and Mr Abdumawla, an activist, have been released from prison today. Both men were serving unjust twelve-year sentences for espionage, inciting hatred between sects and propagating false news, but were set free after receiving a presidential pardon. Read more in our press release.

Thank you so much for all your praying, campaigning, tweeting, and more on behalf of these two men as well as Rev Kuwa and Mr Jašek, who had stood trial alongside them. Many of you tweeted Jan Figel, a senior EU representative, asking him to raise the case with the Sudanese government during his visit to the country earlier this year.

It's been a truly humbling week here at CSW: and it's only Thursday! Only this morning, in our staff prayers, we were thanking God for the release of Chinese human rights lawyer Li Heping and praying for these men in prison in Sudan.

Join us in thanking the God who answers prayer powerfully!

"He has sent me to proclaim freedom for the captives." Isaiah 61:1

Finally, we have a message for you from Rev Hassan:

"Thank you so much for your help and your prayers, for what you have done for us."

Pastor Kuwa Shamal, imprisoned for a year has been released but  Rev Hassan and Mr Abdumawla, a Sudanese activist, have  been sentenced to lengthy prison terms just for helping a young man in need. Throughout the country churches and Christian schools are being targeted for demolition,

LATEST.UPDATE  This is an absolute travesty by a government guilty of genocide…

Christian Missionaries Given Harsh Prison Sentences in Sudan

 

Strong Crackdown on Christian Ministries Continues in Sudan

02/02/2017 Washington, D.C. 

(

International Christian Concern

) – International Christian Concern (ICC) has learned that on Sunday, January 29, three Christians were sentenced by the Sudanese court in North Khartoum for charges including spying, entering Sudan without a visa, inciting hatred, photographing military installations, and publishing fake news. Reverend Hassan Abduraheem was sentenced to 12 years, Mr Abdumonem Abdumawla was sentenced to 12 years, and Petr Jasek was sentenced to 20 years.

Petr Jasek is a Czech national, and Abdumawla and Abduraheem are citizens of South Sudan. They were detained for eight months without being formally charged in December of 2015. Their detainment centered on a receipt that linked them to helping a burn victim who was wounded in demonstrations in 2013. The list of charges against them quickly grew exponentially.

The sentencing sent out shockwaves through the Christian community of Sudan and South Sudan. A pastor in the region told ICC, "The community of Christians in Sudan and South Sudan is very disappointed by the verdict given on Sunday. The three brothers in the Lord deserve better. They have families and churches to take care of and we are joining hands together as Christians to fast and pray and we shall not stop knocking until they are released."

According to some, persecution against Christians is increasing in Sudan. As one Christian who lived in Sudan told ICC, "The pain that Christians go through in Sudan is nothing close to what we hear or read in websites. Christian persecution has been increasing rapidly in Khartoum and we ask the international community to come in full swing and help."

A strong majority of Sudanese citizens are Muslim and the Sudanese government has taken an aggressive approach against Christian ministries within its borders. The sentencing of these three Christian foreigners sends a signal on Khartoum's stance on religious freedom: it is unwanted. Still, many are joining in prayer for the release of their brothers in Khartoum and for opportunities to share the Gospel in Sudan.

One of the pastors who was imprisoned with them but has since been released told ICC, "Our brothers in South Sudan have been praying and we shall continue praying until justice is done. These sentences are hostile to the Church and a stumbling block to the spreading of the Gospel in Sudan and also at the border of Sudan and South Sudan."

Daniel Harris, ICC's Regional Manager, said, "International Christian Concern strongly condemns this harsh sentence based on fabricated charges. These three men have done nothing to deserve punishment. Instead, they have worked tirelessly to provide humanitarian aid in Sudan. This sentencing is the 'death knell' for human rights and religious freedom in Sudan. We strongly encourage Sudan to release these foreigners and allow religious freedom for its citizens." 

Christian gets life sentence – for act of compassion
Czech Christian Petr Jašek has been sentenced to life in prison in Sudan – after a court convicted him yesterday of spying.
His real crime? Helping a student from Darfur who had been badly injured at a rally.
His co-defendants – Sudanese nationals Rev Hassan Abduraheem Kodi Taour and Abdulmonem Abdumawla – were each sentenced to a total of 12 years in prison, mainly for helping Petr.
Please pray that God's peace and presence will be with these three men and their families, and that their appeal will be successful.
The three men were also convicted of 'spreading rumours that undermine the authority of the state' and inciting hatred. Petr was found guilty of taking pictures of military installations and entering Sudan without a visa; he was also fined 100,000 Sudanese pounds (more than £12,000) for doing aid work without a permit. Yesterday's court ruling has shocked many. The legal maximum penalty for 'spreading rumours to undermine the authority of the state' is six months – but the judge in Khartoum doubled this sentence. All three men plan to appeal immediately. They were first detained in December 2015.

Pray that God will comfort and strengthen Petr, Hassan and Abdulmonem so they will not lose heart (2 Corinthians 4:16).
Ask God for wisdom for the legal team supporting the three men. Pray that their appeal will be heard swiftly and will be successful.
Pray that the light and love of Jesus Christ will continue to shine in Sudan, despite intense persecution of His people there.

(Source: Middle East Concern)

Thank God that our Sudanese brother Pastor Kowa Shamaal was released from prison recently, after a judge dismissed the charges against him for lack of evidence. However, the judge decided to proceed with the trial against Pastor Kowa's fellow Sudanese detainees, Pastor Hassan Abduraheem and Mr Adbulmonem Abdumawla, and Czech Christian Petr Jašek: their next hearing is scheduled for Monday, January 9. The three are accused of serious crimes, including spying. (Source: Christian Solidarity Worldwide)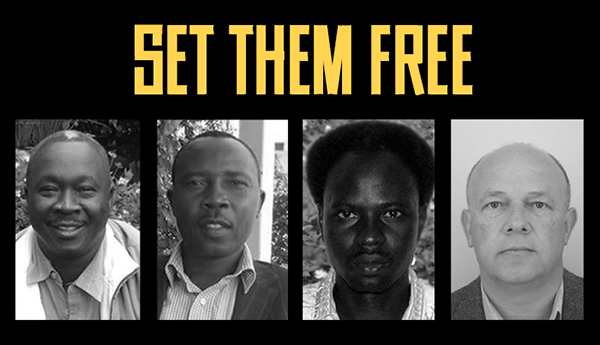 During a trial on August 22, 2016, prosecutors in Sudan accused two church leaders and two others of tarnishing the image of the country and crimes calling for the death penalty, sources said.

The trial had been postponed on Aug. 14 when authorities failed to transfer the pastors to court, a defense attorney told Morning Star News. The prosecutors presented investigators from Sudan's National Intelligence and Security Services (NISS) in calling on the court in Khartoum to execute the Rev. Hassan Abdelrahim Tawor and the Rev. Kwa Shamaal, both of the Sudanese Church of Christ (SCOC), for at least seven alleged crimes against the state, the defense attorney said.

He said the defense team is bracing for the charges concocted, which include the capital crimes of espionage and waging war against the state. In court, Abdelrahim denied all charges that NISS, said to be staffed by hard-line Islamists with broad powers to arrest people the government deems undesirable, brought against him, the attorney said.

"We are 100 percent ready to defend our clients," the attorney said.

The pastors have also been charged with: complicity to execute a criminal agreement; calling for opposition of the public authority by violence or criminal force; exciting hatred between classes; propagation of false news article; and entry and photograph of military areas and equipment.

"There is no evidence against the two pastors," a relative of one of the church leaders told Morning Star News.

Since the pastors' transfer from a holding cell to Al-Huda Prison on Aug. 11, prison officials have denied them visitors, telling one family member, "Visits are not allowed." Abdelrahim's family has been concerned for his health as they have been unable to provide him with the medication he needs for stomach ulcers, according to advocacy group Christian Solidarity Worldwide (CSW).

Also charged is Abdulmonem Abdumawla of Darfur, a Muslim who was arrested in December after he began collecting money to help a friend, Ali Omer, who had needed treatment for burns suffered in a student demonstration. Abdumawla contacted Abdelrahim, who donated money for Omer's treatment, which apparently raised the ire of Sudanese authorities, according to CSW.

Omer had been injured during a demonstration at Quran Karim University in Omdurman last year that left him with severe burns that require regular medical care, according to CSW. A senior member of the student wing of the ruling National Congress Party (NCP) died when 150 NCP students attacked Darfuri students at a meeting at Sharg El Nil College in Khartoum in April 2015, CSW reported.

"Since that incident, Darfuri students have been increasingly targeted by the National Intelligence and Security Services (NISS)," CSW reported. "By May 2015, over 100 Darfuri students were detained by NISS in Khartoum and during 2016, NISS has violently suppressed peaceful student demonstrations against government repression."

Shamaal, head of missions for the SCOC, was arrested on Dec.18, as was Abdelrahim. Shamaal was released on Dec. 21 but was required to report to NISS offices daily, a requirement that was removed on Jan. 16. Shamaal was re-arrested on May 25.

Many church members, mostly from the SCOC, gathered outside of the courtroom to show their solidarity with the two pastors, singing songs calling for their release.

The court appears to be trying to package the case of Omer and the two pastors together with that of a fourth defendant, 52-year-old Petr Jasek, a Christian from the Czech Republic whom NISS accuses of entering the country illegally in October of last year, espionage and tarnishing the country's image with reports saying Christians in Sudan are being persecuted.

Most SCOC members have roots among the ethnic Nuba in the Nuba Mountains of Sudan's South Kordofan state, where the government is fighting an insurgency. The Nuba along with other Christians in Sudan face discrimination, as President Omar al-Bashir has vowed to introduce a stricter version of sharia (Islamic law) and recognize only Islamic culture and Arabic language.

Due to its treatment of Christians and other human rights violations, Sudan has been designated a Country of Particular Concern by the U.S. State Department since 1999, and the U.S. Commission on International Religious Freedom recommended the country remain on the list in its 2016 report.

Sudan ranked eighth on Christian support organization Open Doors' 2016 World Watch List of countries where Christians face most persecution.

VOP Note: Please pray for these pastors and their families. The next hearing is expected to take place on tomorrow, August 29th.  Father, take their fear and give then hope through Your presence. May Your light shine from them as a witness for all to see. Give them joy unexpected in these dark days. Hold them up as they stand on the firm foundation of faith. In Jesus Holy name, Amen.

Please pray for all our brothers and sisters under constant threat in Sudan.
Seek justice for two pastors in Sudan
Dear Julian,
Since December 2015, Pastor Telal Rata, Rev. Hassan Taour and three other Christians have been unlawfully detained without charge, incommunicado, in an unknown location in Sudan.
Pastor Telal Rata, leader of the Fellowship of University Christian Students, was allowed only one visit from family members. They have since been denied access to him. Rev. Hassan Taour, vice-moderator of the Sudan Church of Christ, has been denied all access to either his family or his lawyer. Three other Christian workers, whose names have not been made public, have also been detained.
These Christians are being detained unlawfully, denied access to a fair legal process, and may be at risk of ill-treatment or torture. Their plight forms part of a widening campaign by the Sudanese government to suppress Christianity through imprisoning Christians and demolishing churches.
Pray for the disclosure of their whereabouts so they can see family and lawyers.
Please pray
• For Pastor Telal, Rev. Hassan, the three other Christians, and their families; that God will give them strength and courage in the face of this persecution
• For God to soften the hearts of the Sudanese authorities, leading them to release His people.
Thank you for your compassion, faithfulness and God-given passion for justice.
"I, the LORD, have called you in righteousness; I will take hold of your hand. I will keep you and will make you to be a covenant for the people and a light for the Gentiles, to open eyes that are blind, to free captives from prison and to release from the dungeon those who sit in darkness." (Isaiah 42: 6-7)
MORE…
Prisoners of Faith Alert – May 2016
Imagine for a moment that the police have turned up at your home, taken your husband or wife, son or daughter into custody, and then refused to tell you where they are being held, why they have been arrested and whether or not they are all right. Even after almost five months, you still do not know where they are being held or how they are being treated. That is the awful reality for the family of Pastor Hassan Abduraheem Kodi Taour in Sudan.
Taour and another pastor, Telahoon Nogosi Kassa Rata, who were arrested in December 2015, remain in detention. As you read their Prisoner Profile please pray for their physical and spiritual wellbeing and for their families.
As part of our support for prisoners of faith and their families, Release is monitoring the situation and will update you on any developments in the case of our two Sudanese brothers.
Thank you for praying for and caring for prisoners of faith.
Hebrews 13:3 (NIV) – 'Continue to remember those in prison as if you were together with them in prison, and those who are mistreated as if you yourselves were suffering.'
Thank you for supporting and engaging with Christians who have been imprisoned for their faith.
You can download this Profile as a pdf document by clicking here.
You can download this Profile as a pdf document by clicking here.
Thank you for all your support for Christians who have been imprisoned for their faith.

Find out more about writing to, and on behalf of, prisoners of faith by downloading our Speak Out! and Reach Out! booklets.

By praying for, supporting and writing to, and on behalf of, prisoners of faith you are fulfilling the biblical exhortation to 'REMEMBER THOSE IN PRISON' (Hebrews 13:
Every blessing,
Zoe
Open Doors Advocacy